Your Go-To Local Window Cleaning Company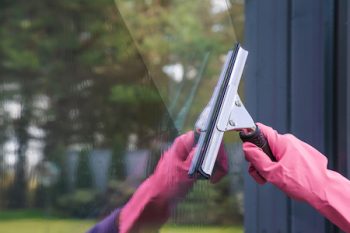 Welcome to Crystal Clear Window and Gutter Cleaning! We provide top-quality window cleaning services to both residential and commercial properties in Clackamas. Clean windows don't just help you enjoy your beautiful views, but they also allow more natural light to enter your home or business. Our team of expert window cleaners is dedicated to ensuring that your windows are thoroughly cleaned and sparkling, leaving your property looking its best. We understand that your time is valuable, which is why we prioritize reliability by arriving on time and completing our work efficiently.
The Best Solution For Cleaning Windows Is Hiring the Pros
In Clackamas, the rain also leaves spotty windows and flings leaves and other dirt onto your windows. Regular window cleaning can help to prevent these issues and maintain the health and appearance of your property. Hiring professional window cleaners is a game-changer for the appearance and maintenance of your property. Professional window cleaners have the experience and expertise to clean your windows efficiently and fast. This will help you save time for the things you want to be enjoying instead. Additionally, professional window cleaners can identify potential issues with your windows, such as cracks, chips, or damaged seals, helping you to maintain the longevity of your windows. Professional window cleaning services are an investment for your home or business that improves the appearance of your property, providing you with sparkling clean windows that enhance both beauty and value.
Clean Windows That Sparkle In Any Season
At Crystal Clear Window and Gutter Cleaning, we provide a comprehensive window cleaning service that ensures your windows are left spotless and sparkling. Our service includes both interior and exterior window cleaning. Additionally, we clean your window screens, removing any dust or debris that hinder the flow of fresh air, and clean the frames and sills of your windows, wiping any dead bugs or large debris out of the tracks. Our team of experts has been trained to work on all types of windows and clean them with speed and precision. Choose us for professional cleaning services that maintain the appearance and functionality of your home and property.
Excellent Customer Service Is Our Priority
We take great pride in providing exceptional window services that please all of our clients. Our professional window-washing crew is highly trained and experienced, using only the best equipment and techniques to ensure that your windows are thoroughly cleaned and sparkling. We want you to spend your time on things that matter to you, not on your windows. This is why we strive to ensure that our clients are satisfied with our service and why we always offer a free estimate so there are no surprises. Customer service always comes first at Crystal Clear!
Spot Searching For Window Cleaning Near Me, Call Us!
If you are in need of window cleaning services in Clackamas, choose Crystal Clear Window and Gutter Cleaning for a window cleaning company that exceeds your expectations and leaves your house looking its best. We also offer gutter cleaning and would be happy to service your windows and gutters on the same trip! We provide free quotes and are happy to answer any questions you may have about any of our cleaning services. Contact us today to schedule your cleaning!